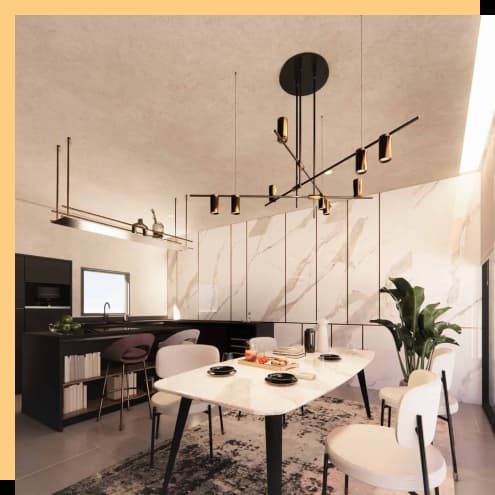 At Instyle Deco Paris, we are well-versed in residential renovations and transforming homes with an exceptional eye for detail, unparalleled craftsmanship, and a focus on superior aesthetics and functionality.
Read on if you'd like to learn more about our home renovation services, and what sets us apart from the competition.
What are the benefits of renovating your home?
There are many reasons to want to renovate your home and when executed properly, it can yield a wide variety of practical benefits. Here's how working with one of Bangkok's leading interior design companies can help you:

Make it your own
Have you recently moved into a property that still has the finger print of the previous owner? If so, it's time to make your new home your own! Our designers can work closely with you to understand your tastes and requirements, and then bring that dream home to life with artistic precision!

Improve energy-efficiency
Now more than ever it is important to have a home that is both economical and energy-efficient. The good news is that we specialise in sustainable renovations and can help transform your property into a sanctuary that functions as efficiently as possible. While the initial investment for a full home renovation might be high, when you make practical changes which can ultimately save you money on your annual utility bills, the process will be entirely worth it.

Add value to your home
Whether you plan to sell your home in the future or not, it's always nice to know that well-optimised renovations can add significant value to your property. When you move forward with quality home renovation services from a reputable interior design agency, it's never money wasted – but invested.

Bring your home to life
Again, if your home is looking dated, it's time to give it some TLC. Our designers can upgrade your home, transform its aesthetic appearance, and create a space that you can feel proud to call your own.

Improved functionality
Is the spatial optimisation of your home confusing? Perhaps there are a number of features that do not quite work and ultimately make the utilisation of certain rooms in your home feel awkward? With professional interior designers at your disposal, you can optimise your home in such a way that promotes a healthy flow of energy and so that every individual element not only has purpose, but fits in with the overall décor perfectly.

Re-purpose select rooms
Whether you are interested in a complete home renovation or you are more concerned with re-purposing a select few rooms, the team at Instyle Deco Paris would be delighted to work with you. Perhaps you have a spare bedroom that you want to turn into a home office? Or maybe your living room would be far better off has a lavish home entertainment theatre? Whatever you desire, our gifted team of designers and renovation wizards can bring those dreams into actuality.

Holiday home / Airbnb transformations
Do you wish to rent one of your properties out as a holiday home / Airbnb residence? If so, you'll be tapping into a highly competitive market. The fact is, Thailand is teeming with holiday rental properties, which is why hiring the finest interior designers around is paramount for making your property stand out and attract those dream customers on a regular basis. We can give your residential property even greater authenticity with a number of bold and audacious design flourishes.

Increase your home's 'buyability'
Another attractive benefit of renovating your home is increasing its overall buyability. If you have dated features, utilities, and design elements, it can make your home feel less desirable to prospective buyers. However, when upgraded with expert craftsmanship, it can be the difference between your property sitting on the market untouched, and being snatched up by your dream buyer.
Contact Us and Kick-Start Your Dream Home Renovation Project Today!
If you like what you read and wish to explore our residential renovations services further,
please feel free to contact us today.
We'd love to have a chat with you, get to know what your plans are for your home renovation project,
and share some ideas of our own.
Following that, we can start working on some 3D mock-up designs for you to review.
If you're tired of waiting and want to get that dream home renovation project kick-started, you've come to the right place.