While most condos in Bangkok are highly affordable, their interior design often leaves something to be desired. The good news is however, that when you save money on investing in a new-build or re-sale condo, you'll have some budget left over to make some stylish interior design adjustments of your own.
In this article, we're going to share some stylish Bangkok condo interior design ideas to give you some inspiration. Read on if you'd like to transform your space into a classy and aesthetically charming home that you can be proud of!
Getting started
Before you can achieve your dream interior design aesthetic for your Bangkok condo, first there's an element of planning involved. You must spend some time day dreaming and pondering your ideal décor – whilst giving great thought and consideration to the overall practicality of the space. Here are some ideas to help get you started:
Think about a theme: when choosing a theme, think carefully about your personal taste and lifestyle. What types of colours resonate best with you? What kind of layout will accommodate your day to day? If you find yourself struggling for theme ideas, you can't go wrong with keeping things fairly neutral.
Maximise your space: particularly if your condo is relatively small, making every square foot count is paramount. As such, it makes sense for you to plan your interior design style around how you are going to use the space. Think about the various furniture and accessories that can bring value to the space without over-cluttering in. Multi-purpose furniture is well worth a look as well (e.g., a sofa bed or ottoman / trunk combo).
Don't neglect your window coverings: whether you're opting for classic blinds or blackout curtains, remember that your window coverings will be an integral part of your interior design. Use this to your advantage when selecting a colour scheme.
Don't rule out wallpaper: while you certainly don't need to wallpaper the entirety of your condo, having certain feature walls inspired with geometric patterns or popping colours can be a great way of adding character your space.
Take advantage of your wall space: especially in smaller condos, utilising wall space with floating shelves is a great way of saving your floor space and creating smarter storage solutions.
Throw in some mirrors: stylish mirrors are great for making a space feel larger and reflecting more natural light.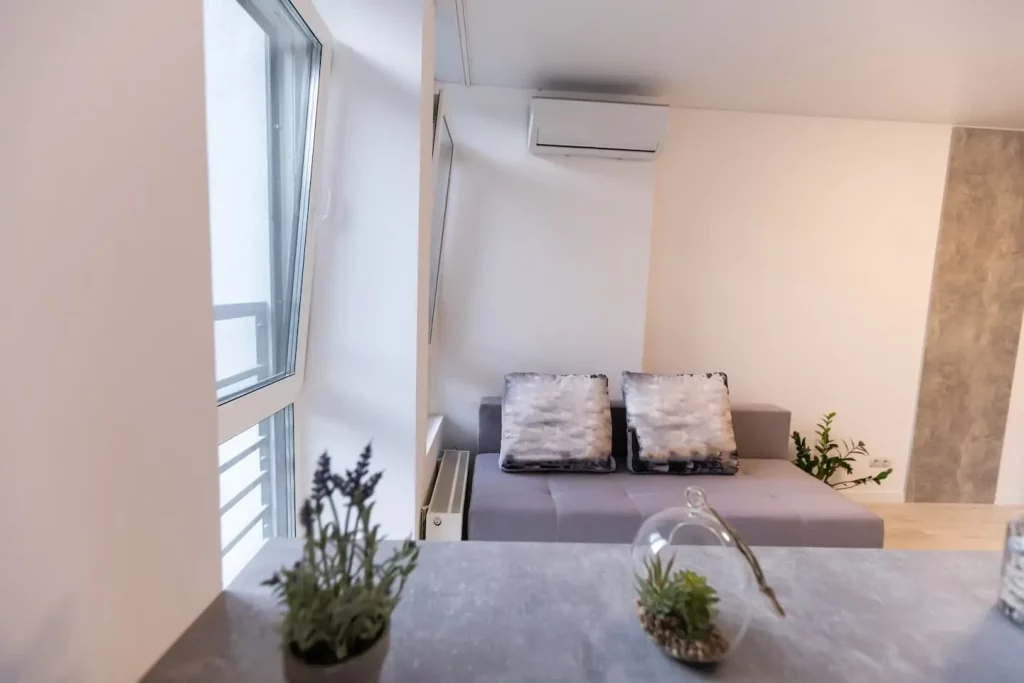 1 – Rural Thai industrial style
Of course, no list of interior design ideas for Bangkok condos would be complete without something that is rooted in Thai culture and their unique architectural fingerprint. One of our favourites is the rural Thai industrial style.
This décor combines the irrefutable beauty of rural Thai architecture with the timeless interior design classic: industrial.
Dark and dashing, the rural Thai industrial style is perfect for condos with high ceilings and an abundance of natural light. By exposing the structural fingerprint of the condo and fusing it with rural Thai accents, you can achieve a truly unique aesthetic.
With this approach, the overall feel and aroma of the room are equally as important as the look itself. Natural materials are a key feature – as are an abundance of Thai native house plants.
2 – Fresh colour coordination
Settle on a desirable colour scheme for your Bangkok condo's interior design scheme and then furnish the condo around those ideas. By using decorative items such as rugs, cushions, lamps, and vases, you can accentuate your colour code with subtle hints of your choosing.
A wonderful example of this would be soft, muted greens on the walls, natural hardwood floors, and reclaimed wood furnishings, such as a drift-wood coffee table and a brown leather sofa. This is a great approach if you wish to bring the outdoors in and create a natural looking home in an otherwise concrete jungle!
3 –  Go minimalist modern
The modern minimalist interior design style is ideal for those who love a clean and clutter-free aesthetic. Particularly if your Bangkok condo already has neutral whites or beige colours present, you can build around this and apply a minimalist modern style with clean and visually appealing lines.
Remember, the minimalist modern approach is all about function over aesthetic – but that doesn't mean your condo can't look positively stylish as well!
Think neutral walls, toned down floors, plenty of natural light, the utilisation of large mirrors, simple lighting solutions, and textured fabrics for extra warmth!
4 – Classy modern opulence
If you love the life of luxury, then a classy modern interior design style might be the perfect solution for your Bangkok condo. The best way to achieve a classic modern vibe is by injecting furnishings and decorations that have flashes of silver and gold, thus reinforcing the desired opulence.
The classic modern style is all about bringing in traditional features with modern elements. By fusing these two together, you can create a truly luxurious space that doesn't feel at all out of date.
Make a statement with bold artwork and classic furniture items. It's all about finding the perfect balance of audacity and refinement.
5 – Fresh Mediterranean
Another excellent interior design style that is trending right now – particularly in Bangkok condos – is the fresh Mediterranean style. You can achieve this look by fusing natural and vibrant colours such as aquatic blues or forest greens with earthy tones, such as sandy browns.
One of the best combinations for this interior design style is mixing woody furnishings with colourful decorations to create contrast.
Keep the space light and airy, add plenty of potted plants, opt for dark flooring with bright coloured walls, and the space will start coming together nicely!
Final thoughts: Be brave!
This is your home so be bold and brave and let your personality shine out. No matter what style you opt for, we always encourage people to inject plenty of potted plants into their home, not to mention an abundance of natural light where possible.
We hope that you have found this article inspiring and wish you the best of luck with your Bangkok condo renovation project!